The History of Wandsworth Common
<! -------------------------------------------------->
---
IN PROGRESS — NOT FOR PUBLICATION
<! -------------------------------------------------->
---
Wednesday 25 October 1854 John Breeze and the Charge of the Light Brigade <! -------------------------------------------------->

---
Battersea-resident John Breeze died on Friday 11 October 1889 and was buried in St Mary's Cemetery, Bolingbroke Grove a week later...

<! - - CLICKABLE PIC STARTS -->

<! - - CLICKABLE PIC ENDS -->

I've delayed writing about John Breeze until 25 October because this is "Balaklava Day" — the anniversary, once widely celebrated but now almost completely forgotten, of a massacre of British cavalrymen (the "Light Brigade") in the opening months of the Crimean War (1854—1856).

<! - - CLICKABLE PIC STARTS -->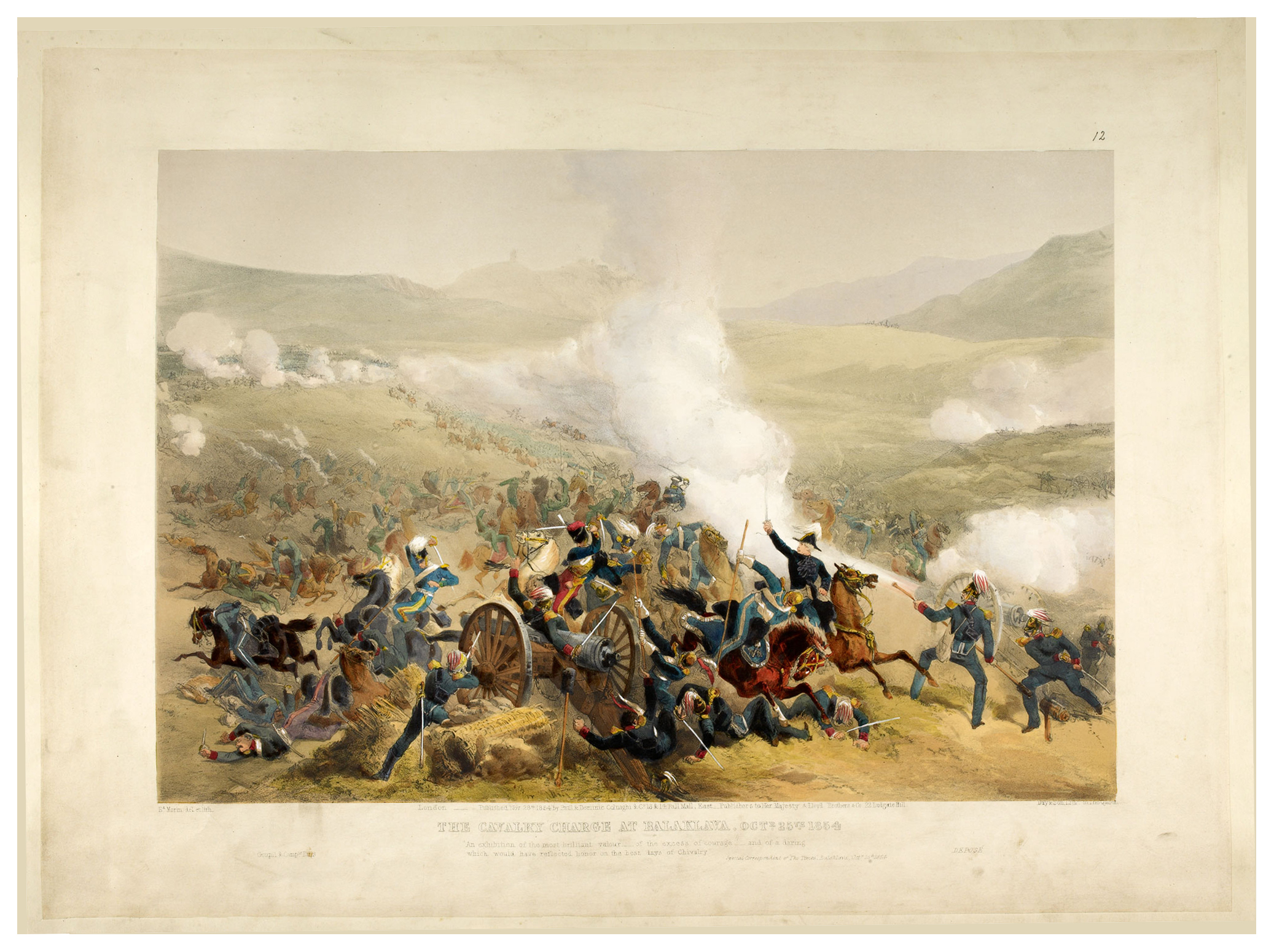 Edward Morin, The Cavalry Charge at Balaklava, Oct. 25th 1854"
News (and social reaction) moved more slowly then. It took nearly three weeks for a detailed report of the events to reach the public — an astounding eyewitness article by Times journalist William Russell (13/14 November). This prompted an outpouring of articles and poems, including the famous one by Alfred, Lord Tennyson (which starts "Half a league, half a league, half a league onward, all in the valley of Death rode the six hundred...").
Tennyson's poem didn't appear until 9 December 1854. But a full fortnight earlier (25 November), Battersea's own Tom Taylor* had written his own paean to British valour. Alas, this has not proved as durable as Tennyson's, even though it covers not only the catastrophic Light Brigade Charge but also the (highly successful) charge of the Heavy Brigade made earlier that day.
[* Tom Taylor, who lived on Lavender Sweep, was later to publish not one but three poems in Punch lampooning Earl Spencer and calling for the preservation of Wandsworth Common.]
Taylor's poem, The Battle of Balaklava, ends:
<! -- OPENQUOTE -->



"'Twas sublime, but 'twas not warfare," that charge of woe and wrack,

That led six hundred to the guns, and brought two hundred back!




Enough! the order came to charge, and charge they did — like men:

While shot and shell and rifle-ball played on them down the glen.

Though thirty guns were ranged in front, not one drew bated breath.

Unfaltering, unquestioning, they rode upon their death!




[Punch, 25 November 1854. You can read the whole of Tom Taylor's poem here.]
But in terms of speedy output, perhaps the most impressive feat was the lithograph (shown above) by the French artist Edward Morin, published 28 November:
<! -- OPENQUOTE -->



This lithograph depicts the Charge of the Light Brigade, the infamous military encounter in which British light cavalry charged against Russian forces during the Battle of Balaclava on 25 October 1854. Within 20 minutes of the charge 260 British troops were killed, wounded or taken prisoner and 475 horses lost, out of a total of 673 horsemen.

The artist, Edward Morin, shows us this scene of chaos: hundreds of men from both sides charge, brandishing swords, guns and knives, and tumbling over cannons, men and horses. Some men are dead or injured...

Printed just over one month after the event, indisputably this is a propagandist image."

[British Library: Edward Morin's illustration of the Charge of the Light Brigade]
(Click on image to enlarge)
<! -- CLICKABLE PIC STARTS -->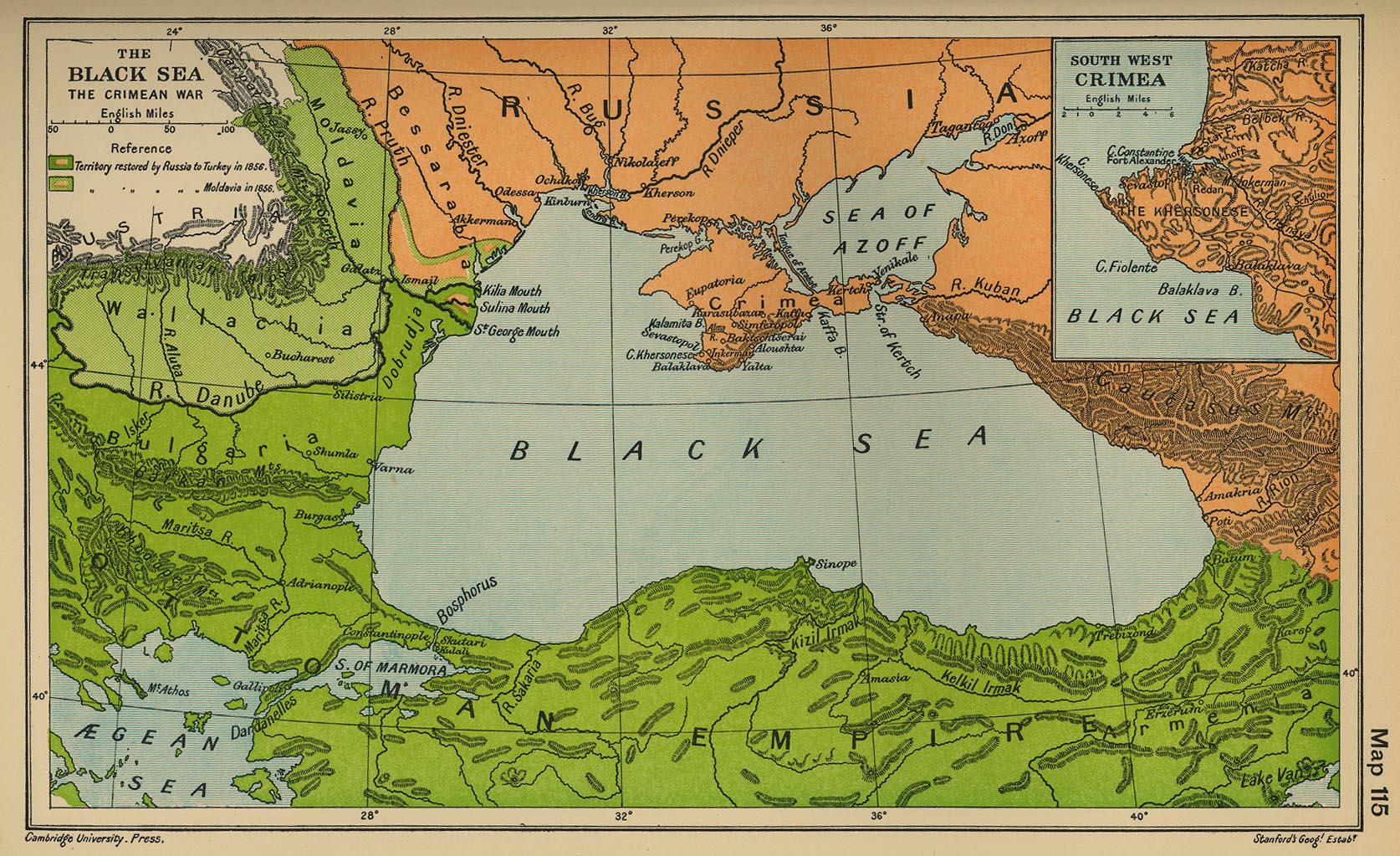 The Black Sea and the Crimean Peninsula, c.1854. Map: Stanford/Cambridge University Press.
(Click on image to enlarge.)
<! -- CLICKABLE PIC ENDS -->

At this point, it would be hugely enjoyable for me to outline the causes, course, and consequences of the Crimean War (1853-1856), and the famous Tennyson poem that so vividly evokes John Breeze's experiences of the Charge — and even the splendid 1968 Tony Richardson film of the Charge. But is this the time and place? Probably not. I'd better stick to John Breeze himself. And frankly, I could go on about him for far too long (he had an eventful life). So here are just a couple of stories, as a taster.

<! -------------------------------------------------->
---
How John Breeze lost his arm, but his life was saved by cheese <! -- CLICKABLE PIC ENDS -->

So what of John Breeze at this time, in the thick of it in the Crimea, but largely unaware of all the furore back home?

Amazingly, Breeze had survived the first two great battles of the Crimean War - the Battle of the Alma (20th September 1854) and even the Charge at Balaklava (25th October). But he wasn't so lucky at Inkerman the following week (5th November).

<! -- CLICKABLE PIC STARTS -->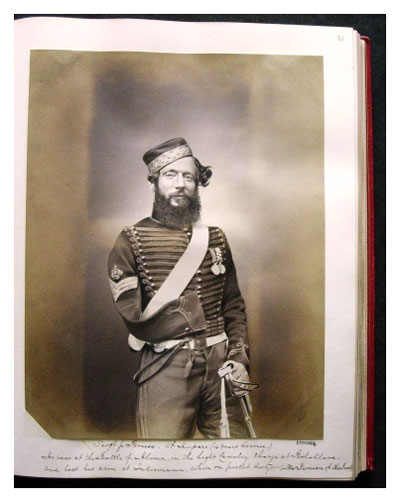 John Breeze
Portrait c.1855 (detail). Unknown photographer, but believed to be Cundall and Howlett. The Royal Collection.
(Click on image to enlarge.)
<! -- CLICKABLE PIC ENDS -->

Regimental Sergeant-Major George Loy Smith tells of how the Light Brigade were sheltered behind a hill at Inkerman:
<! -- OPENQUOTE -->



We were halted about 200 yards from the top. The enemy must have known we were there, for they dropped their cannon-balls just over the brow of the hill so that they passed through us about breast-high. One struck a horse's head, knocking it to pieces, then took Sergeant Breeze's arm off, taking the three bars and leaving the crown."
[The "three bars" are of course Breeze's sergeant's stripes, beneath an embroidered "crown". You can see them reunited in the photograph above.]
John Breeze was sent to Scutari, an immense military hospital 350 miles way — on the other side of the Bosphorus from Constantinople (today's Istanbul). Even leaving aside the amputations (the first was insufficient and he had to endure a second) , the long journey across the Black Sea, and the filthy, disease-ridden hospital itself, were lethal.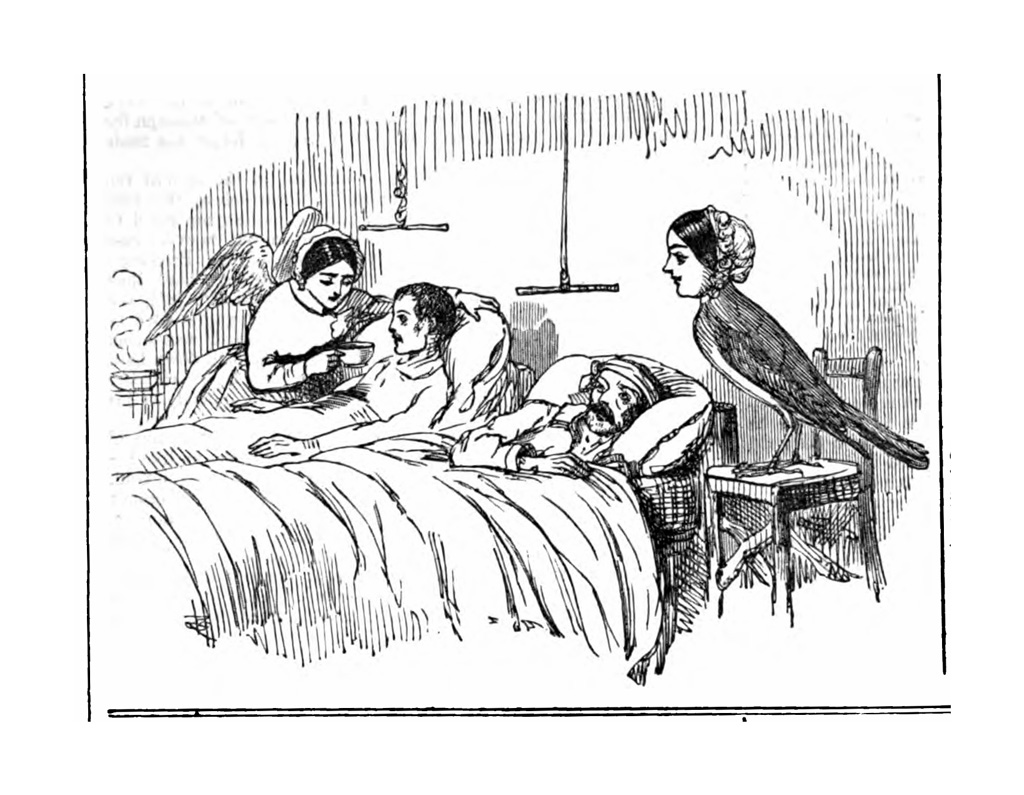 Bird/Angel: Florence Nightingale in the Crimea, Punch, November 1854.
Florence Nightingale and her team of 38 nurses had arrived at Scutari on the 4th November 1854, the day before Inkerman. Punch rather exaggerates their impact. They would have little impact on the mortality of soldiers for a very long time.
Astonishingly Breeze survived, but it was a close-run thing.
A few weeks later, Loy Smith met up with John Breeze again in Scutari. He continues:
<! -- OPENQUOTE -->



On asking the sergeant whose arm had been shot off at Inkerman [i.e. John Breeze] how he was, he said that his arm had been amputated a second time, and that he suffered greatly and feared he should not live, he had such a dreadful diarrhoea.

Having heard that Dutch cheese was an excellent thing for diarrhoea, I went to the bazaar and bought one. He cut a large piece at once, eat it, and the next day he was much better. After that he improved daily, and was quite well as far as his health was concerned.

Before I left Scutari he often thanked me, saying the cheese had saved his life."

[George Loy Smith, A Victorian R.S.M..]
Three months later John Breeze was invalided from Scutari to England aboard the "Neptune", and was among the wounded soldiers seen by Queen Victoria on her visit to Brompton Barracks, Chatham, on the 3rd of March 1855.

<! -- CLICKABLE PIC STARTS -->

"Queen Victoria's First Visit to her Wounded Soldiers", by Jerry Barrett (painted 1856). National Portrait Gallery, London.
John Breeze is the rather dejected figure in grey on the extreme right - you can just about see his pinned-up right sleeve. Notice there is none of the marvellous swagger of the famous Royal Collection photograph.
(Click on image to enlarge)

<! -- CLICKABLE PIC ENDS -->

"The Queen's Goodness to a Veteran":
<! -- OPENQUOTE -->



On her Majesty and Prince Albert, some time back, visiting Chatham, for the purpose of examining invalided soldiers returned from the Crimea, among the wounded she noticed one, of whom, from his soldier-like appearance, as well as seeing that his arm was off at the socket, her Majesty was induced to ask several questions.

"What's your name?"

"Breeze, your Majesty."

"Where did you lose your arm?"

"At the battle of Balaklava [sic]."

"Poor fellow! I hope they'll behave well to you. What regiment do you belong to?"

"Prince Albert's 11th Hussars, where I have served as sergeant for the last twelve years," was the Sergeant's's reply.

Her Majesty instantly turned round to the Prince, saying, "My dear, you must do something for him." And nodding to Sergeant Breeze in a most gentle fashion said, "You shall not be forgotten."

Shortly after her Majesty's return to Windsor, she gave orders that Sergeant Breeze should receive five shillings a week out of her private purse, had him also appointed one of the Yeoman of the Guard, and a pension of two shillings per day for life.

[From the article "The Queen and the Veterans": unknown source, but probably the United Services Gazette. Army records confirm John Breeze lost his arm at Inkerman, not Balaklava.]
The Queen, a life-long water-colourist, took the opportunity to sketch the wounded men (rather as we might take pics with our phones):

<! -- CLICKABLE PIC STARTS -->

A page of sketches from Queen Victoria's Journals.
Queen Victoria's Journals: 3 March 1855.
(Click on image to enlarge)
<! -- CLICKABLE PIC ENDS -->

[Images she made of John breeze are bottom right. By coincidence, "Sergeant Scarff — 17th Lancers" (bottom left), also lived in Battersea. James Scarfe died aged 70 at 4 Mundella Terrace [Thessaly Road], East Battersea, on 1 January 1886.]

<! -------------------------------------------------->
---
Life in London
John Breeze married in 1858, and the birth of a son, Henry John, was registered in Wandsworth in 1859. The family lived in Battersea for more than 40 years at Marlow Villa, 25 Park Road. ("Marlow" was his wife's maiden name).

[My father's notes say the house "has recently [1976] been demolished, and the site is now a garage and service station". I wonder where this was exactly? According to local historian Patrick Loobey, in 1871 Tennyson bought up the freehold of twenty-seven houses nearby at the northern end of the Park Town development as an investment. Hence several streets are named after authors - Dickens, Thackeray, Ruskin, Trollope. ]

As promised by Victoria and Albert, John Breeze became a Yeoman of the Guard.

<! -- CLICKABLE PIC STARTS -->

Ten Yeomen of the Guard standing in full dress. Sergeant John Breese stands second from the left in the group. c.1885.
(Click on image to enlarge)
<! -- CLICKABLE PIC ENDS --> <! -------------------------------------------------->
---
Death & burial
<! -- CLICKABLE PIC STARTS -->

Death certificate
"John Breese, 11 October 1889, 25 Park Road, 72 years, Yeoman of the Guard. Army Pensioner. Acute Bronchitis. S Breese, Widow of deceased. Present at the death, 25 Park Road, Battersea. Registered 16 October 1889."
(Click on image to enlarge)
Here are some photographs of John Breeze's grave taken in the early 1980s by my father, Edward James Boys, a historian of the Light Brigade:

<! -- CLICKABLE PIC STARTS -->

The red granite gravestone of 1102 John Breeze and his wife, Sarah, in Battersea St. Mary's Cemetery. Early 1980s.
Source: EJ Boys / Lives of the Light Brigade Archive — I inherited my father's archive when he died in 2002 and have run it ever since. It's essentially an ongoing study of all the Light Brigade soldiers who served in the Crimea — about 3000 men (and their families), and the cultural significance of the war.
(Click on image to enlarge)
<! -- CLICKABLE PIC ENDS -->

It's good fun trying to locate John and Sarah Breeze's grave — well, my grandchildren found it so during lock-down.

Here's where: If you walk towards the chapel from the main gate, their grave is on the left, quite close to the path — but hidden because it's so awkwardly wedged in by later graves set at different angles.

These pics should help:



John's wife, Sarah, was buried in the same grave-space on the 21st of March 1904. The grave is No. A1-677 in Row No. 67, close to the path on the west side of the chapel.
(Click on image to enlarge)
Their tombstone is really rather unusual. My father described it in his notes as "coffin-shaped". It's made from red granite, low and horizontal, and triangular in cross-section. I wonder why this form was chosen, without the more usual vertical headstone? There are one or two like it nearby, and some in Magdalen Rd Cemetery too. Does it relate to obelisks and pyramids (popular funerary monuments at the time)? Looking around at nearby headstones and crosses — now mainly fallen, weathered and largely illegible — it was certainly much more durable.
On one surface of the raised centre the inscription reads:
<! -- OPENQUOTE -->



In loving memory of John Breese, late Sergeant Major, H.M.'s Body Guard, formerly of the 11th Hussars and One of the Balaclava Six Hundred, who departed this life, 11th of October 1889, aged 72. "Deeply regretted by all who knew him."
And his wife is commemorated on the other:
<! -- OPENQUOTE -->



"In loving memory of Sarah Breese, beloved wife of John Breese, who departed this life March 18th 1904, aged 82 years, 'Gone, but not forgotten.'"
I've focused on John Breeze but he wasn't the only survivor of the Charge of the Light Brigade connected with Battersea and Wandsworth — several of his comrades-in-arms were born or died here.
I've already mentioned James Scarfe. Another was William Freestone, who worked at Wandsworth Gasworks, and lived in Warple Road. His funeral in Magdalen Road Cemetery is described by Neil Robson in the Wandsworth Historian 74, Autumn 2001.
And then there was William Bird, 8th Hussars, who worked for the London County Council (LCC) and lived in Huntsmoor Road (utterly demolished when the Trinity Road underpass was driven through it at the end of the 1960s). He too was buried in Magdalen Road Cemetery (in 1912). In an interview in 1904 he tells a remarkable story about his capture and imprisonment by the Russians after the Charge.
One of my favourites is James Lamb, 13th Light Dragoons, of Salcott Road, Battersea, the subject of a fascinating interview for the US Harper's Magazine.
And there's the fabulous dandy officer George Wombwell, who is commemorated in St Mary's Church Battersea.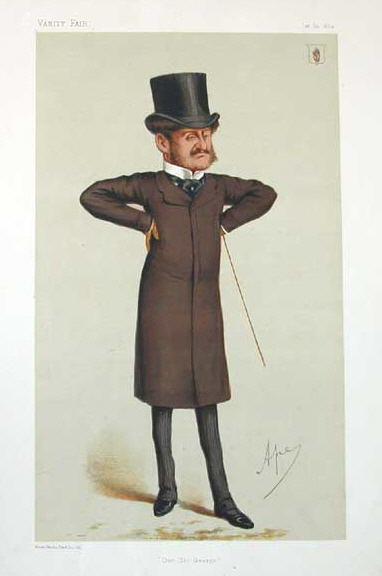 "Our Sir George" — George Wombwell by Ape.
Published in Vanity Fair, 24 January 1874, as "Men of the Day" Number 78.
(Click on image to enlarge)
<! -- CLICKABLE IMAGE ENDS -->

I'll probably write about their lives and times on other anniversaries. I may even get round to telling the story of how John Breeze got his name.

[Another coincidence: The Light Brigade was led by Lord Cardigan, whose family seat, Deene Park — like Earl Spencer's at Althorp — is in Northants. The two families mingled socially, as you might expect, and both were obsessed with fox hunting. And both Cardigan and Spencer, you might say, plunged headlong into battles they couldn't possibly win.]

<! -------------------------------------------------->
---
Send me an email if you want to comment on anything you've seen or read on the site, or would like to know more about something, or just want to be kept in touch.